Chateau Latour no longer sells in futures. This was "stupendous" news when it aired a couple of years back, but really had little immediate effect on the vast majority of us normal folks who can't afford First Growth Bordeaux in the first place. Prices of these top wines have escalated exponentially since the early 1990's, finally (perhaps) blowing their bubble with the astronomic $1,000+ prices of the 2009 and 2010 vintages. The only time I taste these wines nowadays is either on tour, when I'm treating my guests (or sometimes they treat me!) or when I'm socializing with friends who pull out those prized bottles when I happen to be hanging around, which gets rarer by the year!
It has long been a pet peeve of mine, this business of selling wine a year or more before it's even in the bottle. It's an understandable commercial strategy; part of the long-established, intricate and very clever system that Bordeaux has developed over centuries, to protect and promote their unique place in the wine market. Like boutique wineries' practice of limiting sales by quota to a select mailing-list clientele, it's another way of creating media buzz each year and standing out from the crowd. Bordeaux chateaux make a great wine that's capable of aging for many decades, they tell people it's not ready to drink for many years, yet sell it many months before it is actually finished and in the bottle. It works, at least for those who are able to invest – or speculate – in it.
Prices are in Euros, not adjusted for inflation, from available vintage data. Until 2000, all five 1st Growths prices were almost identical each vintage.
One problem is the presentation of an unfinished wine as a base for its evaluation and pricing. Most of the thousands of people who attend the en primeur tastings in the spring following the vintage have little real experience tasting barrel samples, and are woefully under-qualified to make any prediction about them. Consequently, the actual evaluation is left to a few elite professional critics, of varying competence and very diverse palates. Even amongst these, however, the final verdict has really come down to the opinion of less than a half-dozen, with the iconic Robert Parker the undisputed leader of the pack. Most other writers will not venture to put pen to paper until Mr. Parker has told them what they should be tasting, and their reports, if not simply quoting Parker, generally pretty much paraphrase his verdict. This is particularly ironic, given that Parker first made his mark as a rebel, heralding the 1982 vintage as outstanding when the mainstream of wine critics rated it far less enthusiastically.
Adam Lee of Siduri Wines in Sonoma shares this concern for accuracy of pre-release samples. He says he has "a real need to make sure that what is being tasted is completely representative of what is being purchased," (1) on the few wines he releases as futures. Other samples presented as "pre-bottled" wines that are not yet for sale are less critical, as he feels it's understood that changes to the blend can still occur.
The speculation is what hits raw nerves with many people. The en primeur system benefits two parties: the winemaker, who gets paid in advance, and the speculator (professional trader or private individual) who buys early and re-sells at a profit. The latter always runs at least some risk of losing, should the market turn against his investment, but for the former there is no risk – unless you count the "risk" of having sold everything early, and not having kept enough back to speculate on futures of your own wine.
The top Bordeaux chateaux long ago figured out this one as well though; they break down their futures release into 3 tranches. Not only are they able to gauge the market's reaction to their first offer so they can push the following rounds of sales as high as they think the market will go, but they also work hand-in-glove with the negociant trade, rewarding those who bought into the first release as they see their investments blossom in the space of a few weeks. True, this doesn't always work; sometimes the predictions are off, and chateaux and negociants take a tumble after that first tranche release, but in general over the long term, the system works well for all concerned.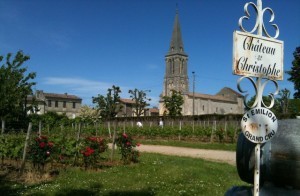 Not all Bordeaux winemakers take advantage of the futures system – in fact for many of the smaller properties it's not a choice; they have to sell whenever, to whomever, they can. For Xavier Richard of Château Saint-Christophe in St. Emilion, avoiding selling futures is an important business strategy, and he welcomes Latour's move: "It's like music to my ears… my grand-father decided to stay out of it and keep a direct contact with our customers… it's the only way to make enough margin and reinvest." (1) He notes, however, that for people who are starting out or need cash-flow, it may be the only way to keep afloat.
Unless you are a "consumer-speculator", however, the futures system does nothing for the consumer of wine – meaning someone who buys with the intention of drinking the bottle one day – except perhaps the guarantee that comes with taking delivery directly on release from the chateau, so you know the wine's been well cared for. This is how it worked in the "old days", when wine collectors had cellars handed down from their parents, and the modern style of riper wines that are approachable young had not reached the top echelons of Bordeaux. Today, however, people are used to buying expensive wine that's ready to drink. Or at least, that they've been told is ready to drink. Or that they've been told is not ready yet, but they don't have the patience to wait so drink it anyway… This, I'm sure, is what has largely contributed to the meteoric hikes of recent release prices, combined with the "Chinese factor" that has put such a strange twist on things since the mid-2000's.
Fortunately, all this has coincided with a general rise of quality throughout the wine world, so we "consumer buyers" have plenty of other wines to choose from if we don't want to pay through the nose for hyped-up superstars. You may like your wines young and aggressive, or you may like them old and mellow like me (and you can take that meaning both ways!) but as long as you're not hung up on following the crowd and paying for a label, but prefer to concentrate on what's actually inside the bottle and pay attention to your own taste buds, you should have plenty of choice, at prices that reflect the pleasure you get from the glass, rather than from the excitement of the chase. It will be interesting to see what effect, if any, Latour's move has on the rest of the Bordeaux Grands Crus, and the smaller chateaux, over the next few years.
Quotes taken from on-line comments at

http://www.decanter.com/bordeaux-2011/en-primeur-coverage/529894/chateau-latour-to-leave-en-primeur-system#uDaRSZYxQGwxOkpr.99